Iron age sword, Nineteenth century rendering.





Further
Ireland
Resources
Theme Introduction
Content Directory


E-mail Newsletter
is distributed
Free to all
interested viewers
of Elore Ireland.

Receive regular updates on:

Site additions
Projects
Web events
New learning


resources
Stay informed!
Request your
Free Subscription to:

Subscribe Today



| | |
| --- | --- |
| Another significant turning point in Irish history took place in the middle of the fifth century. In the year 432 AD, tradition holds, Saint Patrick landed in Ireland with several loyal followers. Over the rest of his life Patrick worked to convert the natives to Christianity. He did not however, seek to abolish existing customs. He proposed alterations only where they were in direct conflict with Christian doctrine. The lore surrounding Ireland's patron saint claims him to be a foreign born slave brought over as a boy to herd sheep. As a man, he escapes and returns across the sea to become a servant of God. | Stained glass portrait of Saint Patrick, herald of Christianity in Ireland. |

One of the most profound introductions brought by Patrick was the Latin alphabet; for the shadow of the Roman empire had never extended to Ireland. In succeeding years, the craft of the written word would be used by Irish monks to record the great wealth of the countries oral traditions and history.



Patrick established monasteries across the country where language and theology could be studied. During the Dark Ages in Europe these monasteries served as sanctuary to many of the continents great scholars and theologians. It was here that the lamp of Latin learning was preserved for the ages. During this age, the great illuminated manuscripts of Ireland were produced. Arguably the finest such work, is The Book of Kells which may still be viewed at Trinity College, Dublin.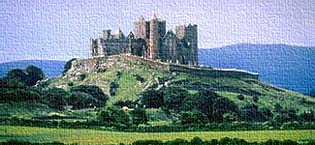 Cathedral of St. Patrick on the Rock of Cashel,
just outside Cashel, county Tipperary

This age of illumination was brought to an abrupt end by yet another group of invaders. The Vikings, unlike the Romans before them, did not spare Ireland. During the ninth & tenth centuries, waves of Norse warriors ransacked the countryside. The Vikings plundered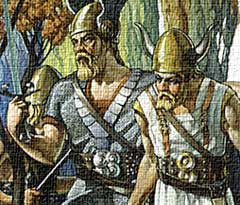 everything in sight. The monasteries were favorite targets for their treasures of golden religious ornaments. The Vikings were eventually driven out, but not before making some contributions of their own. Many coastal towns, and most significantly, Dublin, owe their establishment to the invading Norsemen.



Even with the Vikings gone, Ireland was not without strife. The country fractured into petty kingdoms as ambitious regional rulers vied for control. In a move aimed at unifying the land, the great warrior Brian Boru assumed the title of High King in the year 1002. But national unity was not to be. Family and clan warfare continued for another one hundred fifty years. King would be King - by sword alone.



In the midst of one such conflict came an invitation which would open a new cycle in history, one which is still unfolding this very day. In 1169, Dermot MacMurrough, King of Leinster, lost his title in conflict. He appealed to Henry II, King of England, for assistance in regaining control. Henry agreed, providing both financial and military support, commencing the history of Anglo-Norman involvement in Ireland.

The story continues in 'Middle Age Ireland,' which is currently being upgraded. These pages will be fully accessible within the next days.
To receive notice when they are posted, send us a request.
We would be happy to E-mail you an invitation when they return!