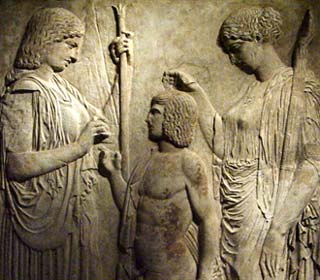 Demeter and her daughter Persephone were associated with fertility and harvest. They were also representative of the feminine call to men of the wonders of domestic bliss. To farmers, the favor of the pair was crucial. Pre-season sacrifices and offerings of first fruits were widespread. The harvest festivals were celebrated only by women, and much of it remained secretive.



This sense of true mystery surrounding the rites of Demeter and Persephone has been long debated. Yet, it seems natural considering the great mystery contained in the processes of birth, growth, death and regeneration. These are the primary aspects of life which the pair govern.
Demeter and Persephone
Eleusinian Mystery Initiation
Image: Rhey Cedron

The rites of Eleusis were the most influential
of the Mystery religions. These ceremonies were accessible to both sexes. What initiates came away with was a sense of security in the afterlife, and a sense of bounty guaranteed in this world. Above all, Demeter was a provider, a premier mother. Through the rituals, regeneration of growth on earth was secured by mortal union with the goddess. Less of a secretive mystery, than intimate participation in the cycles of life.

"In all ages of which we have any literary records, we find a tradition of a recondite knowledge which could not be disclosed to any save to those who had undergone the severest tests as to their worthiness to receive it. This knowledge was very generally known under the term of the
Mysteries...
"
- William Kingsland