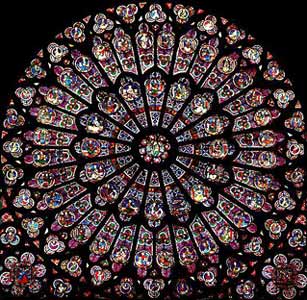 Rose Windows are the apex of stained glass development. These circular mandalas radiate with sacred medieval imagery. The primary subject of the great roses is the Virgin and Child. Many other themes are featured, such as the life of Christ, the apostles and tales from the Bible. Less common features are medieval heraldry and symbols of the seasons or the astrological zodiac.



The great roses which we associate with cathedrals today, did not truly flourish until the mid thirteenth century. The ability to incorporate such large glass works into the walls became possible only after structural innovations within vaulting. Transferring the task of weight support to the vaults and buttresses allowed the solid planes to be partitioned for the entry of light. The following innovations are still some of the most impressive works of European art and culture.


| | |
| --- | --- |
| Illuminated Manuscripts share such elements with rose windows as: the use of elaborate imagery; symbols; vibrant colors; biblical figures; saints and allegory. | |

While stained glass windows are to be found wherever the gothic style manifested, the finest exist in France. While the works of Paris and Chartres are often singled out, lesser known but equally beautiful rose windows are found throughout the country, at such sites as Rheims, Laon, Bourges, Amiens Soissons and others.

The vibrancy of an original window of the Gothic age is the feature which differentiates it from glass work of a later era. Prior to the middle of the sixteenth century, windows were illustrated with glass pieces of a solid color. Realistic likenesses were achieved through crafted combinations of hues. By the Renaissance, many of the medieval artistic forms had been abandoned or replaced. Various techniques of painted glass replaced the elder craft and only rarely was true stained glass used in the following centuries.


During the nineteenth century a renewed interest developed for the arts of the medieval period, particularly those forms related to the Gothic churches and cathedrals. Great efforts were invested to restore earlier buildings and works, and many new structures, both religious and secular were modeled on a Neo Gothic ideal.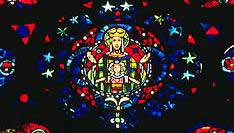 Enthusiasm for the Gothic style spread throughout England, Germany, Eastern Europe and across the Americas. Great labor was invested to recover the skills and techniques of the original builders, but much had been lost forever. The modern era has produced countless works of great beauty, still, the quality of the medieval windows has not been duplicated. Yet time will tell; many of these wonders remain to inspire the dreams of future generations.

In the woods in a winter afternoon one will see as readily the origin of the stained glass window, with which Gothic cathedrals are adorned, in the colors of the western sky seen through the bare and crossing branches of the forest.
—Ralph Waldo Emerson