Structural Designs of Gothic Churches
and Cathedrals :
Abutment :

A reinforcing block or wall of masonry adding support to the great vaults & arches.



Arcade :

A row of arches set atop piers/columns. Sometimes refers to the arched roof itself. The Romans were the first to widely exploit arcades in such structures as the Coliseum at Rome. Arcades were utilized to set apart the nave from the aisles within the earliest basilicas; by the Gothic era, well employed and beautifully decorated, they are featured throughout sacred structures from triforia to cloister enclosures.



Image at right: Arcade at Church of Saint Maggiore, Bologna, Italy.





Architrave (Epistyle) :

The term sometimes interchanged with the definition for the archivolt. The true architrave has its origin in Classical architecture where it rests directly upon the supports of an entablature forming its base or primary support. The three components of a Classical entablature are the architrave, the frieze and the cornice.



Distinctive Highlight from the Archives :




Archivolt :

är΄kī-vōlt (It.

archivolto,

) from

archi,

chief +

volto,

vault, arch). A molded or otherwise decorated band or series of bands around an opening of an arch. In the classic styles the bands and moldings project from the general plane of the wall, the outer molding most of all. In mediŠval architecture the moldings are cut into the voussoirs and recede successively inward from the plane of the wall as they approach the soffit, or intrados.

The term "archivolt" is, however, rarely used of these mediŠval moldings. In good design the moldings of the archivolt are confined to the voussoirs, and define correctly the intrados and extrados of the arch. Archivolts are sometimes used, with purely decorative intent, even where the extrados of the arch is stepped. Archivolts may be merely painted, in interior decoration; and they may be flat bands of marble or glazed tile, as in Assyrian buildings.

—

The New International Encyclopædia,

1922

Barrel (Wagon) vault :

Sometimes referred to as a tunnel vault, essentially an extended arch utilized extensively for lower level passageways although often used for vaulting naves in Romanesque and Early Gothic. (See Vault)



Corbel :

A stone Abutment projecting from a wall supporting vaults, arches, roofs and other features. A continuous set of supporting projections is called a corbel course. A stacked series of supportive masonry tiers, extending one level beyond the previous, is known as corbelling.



Crossing :

The area of intersection in a cruciform church or cathedral; formed by joining the nave, transept & chancel. Figuratively, the crossing is the "heart" of a cruciform structure; high altar (East setting) the head; transepts (North & South setting) the arms; nave (West setting) the trunk and lower body. The raising of crossing towers, initially constructed with wood, demanded exceptional craftsmanship as, less flammable, stone became the building material of preference.



Image at right: The South transept tower rising over the crossing of Canterbury cathedral, England. (Engraved by John le Keux [1783-1846] from an original work by the painter George Cattermole [1800-1868].)





Fan vaulting :

One of the most beautiful expressions in Gothic architecture consisting of decorative stone ribbing forming intricate fanning patterns across a vault surface. Fan vaulting was first utilized conservatively during the mid-fourteenth century, remaining a predominantly English implementation. During the Perpendicular era of the fifteenth & sixteenth centuries full interiors were closed with fan vaults at Westminster Abbey, King's College Chapel at Cambridge and Windsor Castle. Fine examples of fanning can also be seen at Canterbury; Ely; Gloucester and Oxford. (See Vault and Rib vault.)



Groined vault :

A Norman innovation being a rib-less vault formed by the meeting of a pair of equal barrel vaults at right angle to each other. Groined vaults were primarily employed within subterranean levels. (See Vault)



Hammer beams :

Right angled support beams projecting from wall tops to brace wooden roofs via vertical extensions known as hammerposts.



Jamb :

The vertical side surface masonry of a door, window or portal entranceway; often an ideal location for the setting of statuary.



Image at right: Jamb Statuary within the West portal at Rheims cathedral, France.





Lancet window :

A tall, narrow, lance-like, window terminating in a pointed apex. Early forms of the lancet window were uniformly austere; absent of adornment or glass. The Lancet form with stained glass, common today, date to a later period and were well employed during the Neo-Gothic revival. So common were Lancet windows within early English structures that this period is often referred to as the Lancet era.



Lantern :

An extending architectural feature with multiple windows. Also, more specifically, the uppermost, illuminated, portion of a tower.



Lantern tower :

A square tower, commonly extended above the crossing, illuminating the interior structure through its numerous windows.



Net vault :

A vault constructed of intersecting ribs which give the impression of a web or net. (See Vault and Rib vault.)



Oculus :

A circular or eye shaped opening such as set in the center of a domed roof or utilized as a window.



Portico :

A ceilinged structure bordered and supported by columned masonry. At Medieval religious sites porticos primarily served as entranceways, a feature which is also known as a porch.



Quadripartite rib vault :

A four sectioned vault, divided by diagonal, transverse ribs of fortifying masonry; one of several styles of vaulting used in Gothic structures. (See Vault and Rib vault.)



Image at right: The nave at St-Denis, Paris; showing the Quadripartite vault ceilings.





Relieving arch :

A supportive arch constructed within a wall, often above an architrave, serving to absorb weight upon a passageway or portal below.



Rib vault :

A vault reinforced by a frame of stone ribs forming an intersection of arches which redistribute the bearing weight evenly; an architectural feature distinctive to Romanesque and Gothic structures. Channeling weight towards the four corners of the bay alleviated pressure from the main walls allowing the introduction of large windows. Unique site demands and successive innovations led to a variety of rib forms, the most widely used were the Quadripartite (four sectioned) and Sixpartite (six sectioned) vaults.



Sixpartite rib vault :

A six sectioned vault, divided by diagonal, transverse ribs of fortifying masonry; one of several styles of vaulting used in Gothic structures. (See Vault and Rib vault.)



Star (Stellar) vault :

A combination of decorative minor-ribs set in the peak of a vault which form a star-like formation. (See Vault and Rib vault.)



Transom :

The horizontal division of a window constructed of wood or stone.



Transept :

The lateral extensions which form the cross-arms of a Cruciform cathedral or church, consisting of an open space set in a transverse manner to the nave, partitioning the nave from the sanctuary.



Transverse vaulting :

The use of ribs or arches to span the primary axis of an open area. A transverse arch reinforces the vault while emphasizing the visual sense of interior space. (See Vault and Rib vault.)



Tribune :

A vaulted gallery which forms or covers the ceiling of an aisle.



Tympanum :

The section atop the Lintel of a portal or doorway, commonly recessed, enclosed by an arch, often featuring significant sculpture work.



Image at right: Tympanum within the west portal of Notre Dame de Chartres, France.





Vault :

In all architecture: an arched structure of masonry forming a ceiling or roof. The daring innovations applied to vaulting during the medieval periodremain one of defining characteristics of Gothic style. Through the utilization of sharply arched roofs of stone supported by ribbed masonry Gothic structures stand in elegant contrast to more solid edifices of preceding centuries. Alleviating weight from the main walls, through ribbed vaulting, allowed for a vertical structural emphasis that provided an individual experience of being drawn upwards and "heavenward." The initial use of arched vaulting was limited to small architectural components such as tombs and reliquary cells where the shape was employed for its symbolic value. As church and cathedral construction advanced prolifically through the twelfth century arch-shaped roofs redefined skylines throughout Europe and the British Isles. From the thirteenth through sixteenth centuries a varied array of vaulting styles evolved including complex forms implemented solely for decorative purposes.



Wagon roof :

A ceiling of curved wooden beams which often intersect forming intricate designs.

"The mere detail of the Lancet style possesses the most exquisite loveliness of any style of architecture whatever. We might ransack all the edifices in the world, from the Treasury of Atreus to Henry VII's Chapel, and find nothing which can be for a moment compared to the perfect beauty of its detached marble shafts, with their deep cut bases, their bands, their capitals of the richest and most graceful foliage;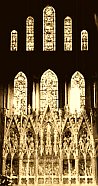 of the wonderfully deep mouldings, forming the finest contrasts of light and shade; of the long rows of the most elegant and always satisfactory tooth-ornament; of the corbels, and bosses, and knots of foliage, the profusion of arcades, on which all this beauty is lavished. Succeeding styles carried out the Gothic principle more effectually, and formed a more perfect whole; but the Lancet style, as exemplified in its noblest production, the divine presbytery of Ely, must stand unrivalled for the grace and purity bestowed upon the minutest fragments of detail."
—
Edward Augustus Freeman
,
A History of Architecture
1849

"Remember how much this fine Egyptian work meant. It was not only that so many men were trained to do neat work: they must have had the mind behind the training that could demand it. The demands of each age were its ideals and were the really important things. You may have confidence in the interpretation of mind by the products of art. What, for instance, was there in the writings of the thirteenth century which gave such a perfect picture of the mediaeval mind as Salisbury Cathedral?"
—
Prof. Flinders Petrie
,
Lecture,
1913

"The plan of the cathedral of Peterborough in England shows how a Romanesque church of large size was conceived. Such a church would have its aisles vaulted as soon as the bishop of the diocese could command a very small spare annual sum and the services of a tolerable master-mason. The clear-story of the choir and that of the nave would not be vaulted until the resources of the diocese were considerably greater. In the mean-time a wooden ceiling would be built above the clear-story, either flat and with bright-coloured painting for its only decoration, or carried along the lines of the rafters and collar beam in such a way as to seem crowned up in the middle, and to leave exposed a small part of the roof timbers. Such a roof, however, was frequently burned, or in other ways injured, and accordingly renewed in a new style."
—
Russell Sturgis
,
European Architecture -
A Historical Study,
1896

"At the first dawn of Gothic science, when the numerous and disastrous fires among sacred edifices led to the attempt to vault them with stone, a mixture of the Roman and Eastern methods seems first to have been tried, and some curious combinations of this kind are still to be seen in the old churches of Cologne and its neighbourhood. The superiority of the Roman system, however, soon led to its exclusive adoption, and it is to be seen in the naves at Durham and Ely, and the transepts at Ely and Winchester; but in extending this kind of ceiling to the central avenue, many difficulties arose, not perhaps so much from the increased span and height above the ground, as from the oblong form of the compartments; for the builders of this age very properly rejected the doubly-curved groins of Diocletian's baths, which indeed would have been quite impracticable over a plan differing considerably from a square. Various expedients were resorted to, and the only successful one for vaulting the clerestory with round arches alone, was by making its compartments square, and letting each correspond to two compartments of the side aisle."
—
Edward Lacy Garbett
,
Rudimentary Architecture
, 1891
"Since the decline of Gothic architecture the ideas which have prevailed respecting it have been for the most part confused and incorrect. Indeed, until within the last fifty years only the most vague notions of it were entertained even by students of architecture. The very name Gothic, though not wholly inappropriate, originated in a spirit of contempt, which naturally precluded any disposition to study attentively enough to understand it, this splendid manifestation of human genius. The architects and amateurs of the schools of Sansovino and Palladio in Italy, where the revival of taste for classic forms of art had set in as early as the time of Brunelleschi, could not be expected to admire anything so far removed from the spirit of the art which was in fashion with them. The maniera Tedesca, as they called such Gothic as they possessed-supposing Gothic art to be of German origin, because their own pointed style was an importation from Germany-was regarded by them as barbaric and without principles, in comparison with their grammatical Vitruvian orders."
—
Charles Herbert Moore
,
Development and Character of Gothic Architecture,
1890
D

evelopment &

P

roduction

C

redits

Primary Text :

Rhey Cedron —

Theme Editor :

Nicole March

Structural Design & Project Direction :

Rhey Cedron

Art Direction :

Thierry Alberto —

Art Production :

Mark Nelson & Ash' Murti

Principal Photography :

Rhey Cedron

Art Research :

Malcolm Hurrell —

Support Research :

Walter McCrae

(Life) Support Production :

Henry Craig, Joan Flandrin, Clara Kelly

and

a Patient Legion of Friends, Family & Angels